The Patient Safety Commissioner
The role of the first Patient Safety Commissioner in the world was created by the government after a recommendation from the Independent Medicines and Medical Devices Safety Review in 2020, First Do No Harm, conducted by Baroness Cumberlege.
Her review uncovered a health system that failed to listen to patients, specifically in relation to the use of pelvic mesh, sodium valproate and the pregnancy hormone drug Primodos. It also spotlighted a health system that was disjointed, siloed, unresponsive and defensive and failed to recognise that patients are its sole purpose and to listen to their concerns.
Along with nine other recommendations, the review called for a Patient Safety Commissioner to be appointed to be the patients' port of call, the listener, the advocate, that holds the system to account, monitors trends, and demands action where necessary.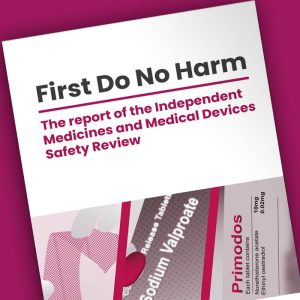 The remit of the PSC
The Patient Safety Commissioner for England cannot investigate individual cases but will aim to signpost patients and the public to the body that is responsible or to the right organisation that can provide support.  Due to the way which the role was set out in legislation, the Commissioner's remit does not cover patient safety issues that do not relate directly to medicines and medical devices.